Snipe SN & Snipe SNT
Product Code: SNIPE-SN
Snipe SN & Snipe SNT
Snipe SN Summer Sale - BUY NOW!
The acclaimed Snipe, created by multiple world champion
Joe Wurts
, has been the world's best discus launch glider since public release, winning more top level F3K competitions than any other model. This unique glider has advantages in all phases of flight: very easy and high launch, quick climb rate in thermals, extremely low sink rate in dead air, as well as an excellent glide ratio, even at higher speeds, giving good penetration when returning back to the launch point.
Vladimir's Models has been continuously improving the composite construction of the model, reducing the weight of many components, especially the tail, resulting in a model that could on occasion be nose heavy. The new
Snipe SN
with a 20mm
s
horter
n
ose was made as an experiment for the 2015 F3K World Championship to take advantage of these lighter tail surfaces. Team New Zealand, F3K World Champion 2015 Alex Hewson and some other top pilots used this modification during the event to great effect. The Short Nose has these benefits:
Reduced moment of inertia. This reduces the initial yaw of the Snipe SN during launch, increasing launch altitude.
The reduced inertia also makes the Snipe more stable in turbulence or when circling, improving performance and controllability.
The Snipe is responds better to elevator input, reducing pilot workload.
When circling in a thermal, Snipe SN cores better and due to its lower weight needs less bank angle, increasing the climb rate.
Alex Hewson added the Snipe SN's advantages to his own unique skills, to become F3K World Champion 2015. The New Zealand Snipe Team (Alex Hewson, Joe Wurts and Kevin Botherway) also placed first in the 2015 F3K WC team event.
Vladimir's Models produce three wing types for different flight condition: Snipe SN Light; Snipe SN; Snipe SN Strong for light, normal, and windy flight conditions. The Snipe SN is also being manufactured in more colour schemes, reducing the possibility of confusing your new Snipe with other models, even when flying at a distance.
The even more radical
Snipe SNT
with the new short nose and a 45 mm shorter tail boom has also been made available. The Snipe SNT feels solid and very stable cruising around, and light and lively in pitch when thermalling and manoeuvring. The plane is twitchier in yaw due to the lower yaw damping. With the shorter tailboom, the pilot's input becomes more important, and more skill is required to get the best from this thoroughbred glider. The pitch characteristics are definitely better, the launch does not seem to be affected and may even be slightly improved, though by too small a difference to measure. The plane's response in yaw from turbulence is the downside with a shorter tailboom, especially if mated with a heavy wing. Once the air gets bumpy, then the increased inertia of the heavier wing makes the handling less pleasant. With a lighter wing, the shorter tailboom works well. That is why we recommend Snipe SNT for more advanced pilots, and with a light wing only. Each fuselage (SN and SNT) is produced in versions for left and right handed throwers.
Snipe SN & SNT Design and Construction
The Vladimir's Models Snipe is a revolutionary DLG, encompassing radical aerodynamics developed by multiple World Champion and professional aero engineer Joe Wurts. By running an exhaustive computer analysis of all phases of a discus launch model's flight envelope Wurts has produced an optimal aerodynamic design, allowing the Snipe to achieve extremely high launches while also having a wider speed range than contemporary models. The proprietary JW airfoil has been designed for maximal laminar flow while also avoiding separation bubbles in launch and cruise conditions. The tail has been specially optimised with new airfoils and planform. The horizontal stabiliser (tailplane+elevator) is mounted on a short pylon below the boom, and the elevator horn is cleverly recessed into the pylon to reduce drag. The vertical stabiliser (fin+rudder) is cambered to give more corrective force during the launch, reducing energy-sapping yaws, resulting in exceptional launch heights. The fuselage has a slot for the fin ready cut into the boom. As the fin camber is orientated differently for left handed and right handed throwers the model needs to be ordered with a suitably handed fuselage.
Even the best aerodynamic design is of limited use unless it is implemented in a strong, lightweight, and smooth airframe that can be assembled by the average modeller. Here Vladimir's Models has excelled, creating new technologies to produce a super smooth solid molded ding-resistant wing that only weighs as little as approx 93 g and a model that can be built to a flying weight as low as 205 g (7.2 oz). The front fuselage is based on the Blaster 3 design, which has a fully removable slip-on nosecone, giving unrestricted access to the RC, and allowing a very easy servo installation. The rear pod design has been changed to allow internal aileron connections to reduce drag. The vertical and horizontal stabilisers are actuated by supplied pull-spring hardware, totally eliminating slop and saving tail weight. The kit is highly complete and very little work is required to get the model airborne. Just a few glue joints and fitting the RC is all that is required. All control linkage hardware is supplied.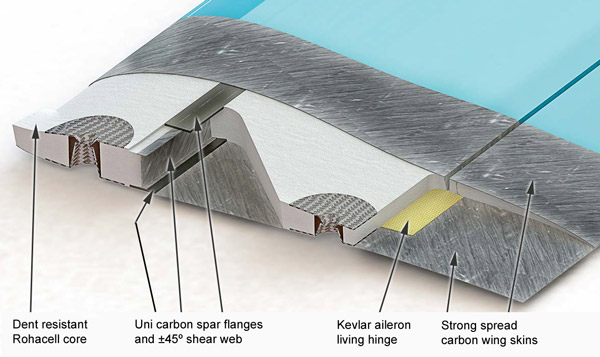 The wing design uses ground breaking solid molded fabrication techniques to maximise strength and toughness, while keeping weight to a minimum. The spar is constructed from high modulus unidirectional carbon flanges, which are bonded to the wing skin, these are kept rigid by a carbon shear web with a ±45º fibre orientation. The wing skins are made from Vladimir's Carboline ultra light spread carbon, ensuring rigidity and excellent strength. The aileron is mounted using a very strong yet free Kevlar living hinge.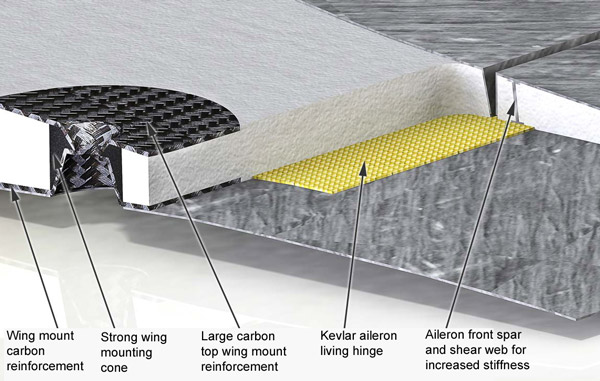 The wing mount consists of two cone shaped holes that mate with carbon mounting cones built into the fuselage. The conical holes are very strongly reinforced with carbon doublers on the lower and top wing surface, ensuring a long service life. The ailerons incorporate a spar and shear web to maximise stiffness and eliminate flutter.

The Snipe has the advantage in all phases of flight: it's very light weight and low drag allow pilots to throw the model to amazing altitudes with little exertion, the JW airfoil and light weight results in a great rate of climb even in weak thermals, and the clean aerodynamic design and internal aileron linkages give an extremely good L/D and the ability to return home from long distances downwind. The combination of outstanding launch height and an exceptionally low sink rate gives great still air duration. Even at its low weight the Snipe can cope with average wind speeds well, however 30 g, 60 g or 85 g ballast pieces can be fitted internally, allowing the model to be flown in winds up to the FAI limit with confidence.

The Snipe SN is available in three wing layups:




Strong

: Custom three layer spread carbon wing skin weighing approx 58 g/m². Wing weight approx 20g more than the Light layup.
Good for powerful throwers, all ballasts and all wind conditions.



Standard

: Spread carbon wing skin weighing 39 g/m². Wing weight approx 10g more than the Light layup.
Okay for powerful throwers, all ballasts and medium wind conditions. (Called plain Snipe on Vladimir's site.)



Light

: Very fine spread carbon wing skin weighing only 26 g/m². Wing weight as listed below.
Better for average throwers, up to 30 g ballast and light to medium wind conditions.


We will attempt to stock all layups, but may not always manage this.

See these

RCGroups Mega Snipe

,

RCGroups Snipe 2014

, and

FlyQuiet Snipe Build

forum discussions for more info and flight reports. Also please click on the

More Details

links below to check out the kit contents and build manual.
Snipe SN Specifications
Wing span
1.5 m
59 in
Wing area
19.7 dm2
305 sq in
Length (SN fuse)
107 cm
42.0 in
Length (SNT fuse)
102 cm
40.2 in
Flying weight from
205 g
7.2 oz
Wing loading
10.4 g/dm2
3.4 oz/sq ft
Aspect ratio
11.3
Wing airfoil
JW proprietary
Dihedral angle
5.5º
Centre of Gravity
61-67 mm from wing leading edge
Controls
Rudder, elevator, ailerons
Snipe SN Typical Weights
Fuselage
37.2 g
1.3 oz
Wings-light layup
93.0 g
3.3 oz
Fin
5.8 g
0.2 oz
Tailplane
6.0 g
0.2 oz
Accessories
10.0 g
0.4 oz
Total structure
152.0 g
5.4 oz
Glue etc
3.0 g
0.1 oz
Receiver
5.0 g
0.2 oz
Tail servos
12.0 g
0.4 oz
Wing servos
12.0 g
0.4 oz
Battery
21.0 g
0.7 oz
Flying weight
205.0 g
7.2 oz
Snipe SN Control Throws & Mixes
Rudder
15 mm each way
Elevator
7 mm up / 7 mm down
Ailerons
10 mm up / 8 mm down
Recommended snap-flap (elevator->camber) mix.>
Full up elevator gives 6mm increased flaperon camber
Recommended flaperon settings. Down=Flap TE down.>
Launch preset
1 mm down
Speed
1 mm up (small ail>rud mix)
Cruise
0 mm (a little more ail>rud mix)
Slow cruise and active thermal
1 mm down (more ail>rud mix)
Minimum sink
3 mm to 4 mm down (Slow cruise + slider camber)
Landing mode
as much down as possible
Recommended RC
All servos
Blue Bird BMS-A10S, KST X08N, MKS DS65K, MKS DS75K-N, Ripmax SD100, Blue Bird BMS-101HV, JR DS285, JR DS188
Receiver
4/5 channel rx to match your transmitter, max size approx 60mm x 25mm x 12mm eg FrSky X4R, Spectrum AR6260*, Futaba 6008HS*, Futaba R6106HFC *case removed
Power
HyperLiPo 2S 300 mAh LiPo, Nanotech 1S 750 mAh LiPo
Snipe SN & Snipe SNT
More than 20 in stock