Supra-e Pro Competition Ultralite
Product Code: SUPRA-E-COMP-LITE
Supra-e Pro Competition Ultralite
The
Supra-e Pro Competition Ultralite
is a special light weight version of the electric Supra optimised for electric power, making it suitable for F5J type electric r/c thermal soaring competitions. It has glass and Kevlar skins and a reduced thickness spar. This version
is only suitable for electric thermal soaring
and is not warranted for hotliner type high energy flight.
The benefits of this version are:
Fuse pod designed for a geared electric motors with a removable canopy hatch for easy access to the batteries and motor.
New Ultralight fin with built-up rudder, modified to allow the tail servos to be rear mounted, to give more space for the powertrain in the pod, and to aide with correct centre of gravity placement. (Not shown in flying photos.)
New Ultralight built-up tailplane (horizontal stabiliser). This is lighter and slightly larger, improving stability and reducing inertia.
Now supplied with a lightweight wiring loom for the fuselage and wing connections.
Specially designed T800 wing spar sized to withstand the forces required for a lightweight electric thermal soarer only - not two man F3J tows! This saves considerable weight and improves climb and glide performance. For massive dives and high G aerobatics a Supra-e Glass or Supra-e Spread Carbon is recommended.
These improvements allow the plane to excel in the UK's eSoaring and the new FAI F5J class. This lighter version will also be attractive to all pilot who prefer a lower weight model that excels in typical weak lift conditions, yet has the speed range to cope with 25mph winds with ease.
The wing skin is a very rigid and tough glass/rohacell/glass sandwich with special lightweight high modulus T800 carbon spar.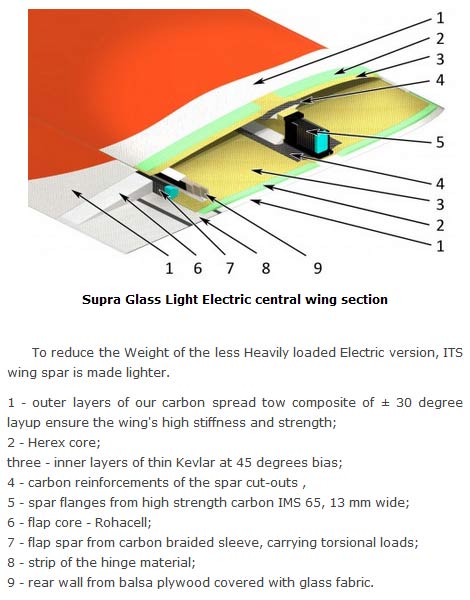 The model is supplied with wing connection plugs and sockets and partial wiring harness for connecting up the tail servos. See the
Supra-e Servo Harness
product page.
Our thanks to Jure Korber for use of his excellent photos.
Supra-e Competition Ultralite Specifications
Wing span
3.4 m
134 in
Wing area
66.7 dm2
1034 sq in
Length
170 cm
66.9 in
Flying weight from
1630 g
57.5 oz
Wing loading
24.4 g/dm
8.0 oz/sq ft
Aspect ratio
17.3
Wing airfoil
AG 40/ AG 41/ AG 42/ AG 43
Dihedral (EDA)
6.0º
Spinner Diameter
32 mm
Centre of Gravity
95-112 mm from wing leading edge
Controls
Rudder, elevator, ailerons, flaps
Supra-e Competition Ultralite Typical Weights
Pod
145 g
5.1 oz
Boom
55 g
1.9 oz
Wing c/s
536 g
18.9 oz
Wing tips
350 g
12.3 oz
Tailplane
26 g
0.9 oz
Fin
34 g
1.2 oz
Accessories & wiring
97 g
3.4 oz
Total structure
1243 g
43.8 oz
Receiver
12 g
0.4 oz
Tail servos
13 g
0.5 oz
Wing servos
60 g
2.1 oz
Speed control
35 g
1.2 oz
Motor
120 g
4.2 oz
Prop & spinner
30 g
1.1 oz
Battery
117 g
4.1 oz
Flying weight
1630 g
57.5 oz
Recommended Servos
Elevator & rudder
MKS DS65K, MKS DS6100, Hyperion DS09-AMD
Aileron
Hyperion DS09-AMD, MKS DS6100, MKS DS6125 Mini, KST DS115, KST DS135MG
Flap
Hyperion DS095-FMD, Hyperion DS13-TMB, MKS DS6125 Mini, MKS DS6125, KST DS125MG, KST DS135MG
Supra Nomenclature - these are the various terms used to describe the different versions
Classic
The original fatter pod, with a removable nose cone.
Pro
The new longer, slimmer drooped pod - used on all glider Supras. Now suplied on most electric models. Only very small (Speed 400 size/25mm diameter) geared motors can be fitted.
Competition
The model is fitted with a built-up tailplane (horizontal stabiliser) and rudder. This results in a slight reduction in tail weight, reducing the model's total weight and inertia.
Ulralite
The wing has a reduced strength spar and glass wing skins - lightest, but suitable for low energy electric flight only.
Spread Carbon
The SC (also called ST for Spread Tow) wing has a full strength F3J spar and spread carbon wing skins - very light and very strong.
Glass
The wing has a full strength F3J spar and all glass wing skins - light.
Carbon/Glass
The wing has a full strength F3J spar and carbon skins on the centre panel, and glass wing skins on the tip panel - medium weight.
Carbon
The wing has a full strength F3J spar and all carbon wing skins - heavier, but very strong.
Powertrain Suggestions
Hacker A20-6XL geared 4.4:1, 3S 1.3Ah LiPo, 16x9 Aeronaut prop (1900 fpm, 46A)
HET 2W-25 geared 6.7:1, 3S 1.5Ah LiPo, 20x13 RF prop (2300 fpm, 50A)
HET 2W-25 geared 6.7:1, 3S 1.3Ah LiPo, 18.5x14 Aeronaut prop (1920 fpm, 41A)
HET 2W-25 geared 6.7:1, 4S 1.5Ah LiPo, 18.5x14 Aeronaut prop (3400 fpm, 69A)
HET 2W-25 geared 6.7:1, 4S 1.3Ah LiPo, 18x11 Aeronaut prop (2800 fpm, 52A)
HET 2W-25 geared 6.7:1, 4S 1Ah LiPo, 17x11 Aeronaut prop (2370 fpm, 42A)
Hyperion Gs3020-08 direct drive, 3S 1.5Ah LiPo, 13x7 Aeronaut prop (2250 fpm, 70A)
Hyperion Gs3020-08 direct drive, 3S 1.5Ah LiPo, 12x8 Aeronaut prop (1880 fpm, 61A)
Mega 16/25/2 geared 4.4:1, 3S 1.5Ah LiPo, 16x10 Aeronaut prop (2100 fpm, 57A)
Mega 16/25/3 geared 4.4:1, 3S 1.5Ah LiPo, 20x13 RF prop on +7 spinner (2150 fpm, 49A)
Mega 16/25/2 geared 6.7:1, 3S 1.5Ah LiPo, 20x13 RF prop (2400 fpm, 56A)
One of the power train used in F5J FAI competitions:
Typhoon EDF-2W geared 5.2:1, 3S 1100 Mah Lipos, 13x8 Aeronaut prop
Supra E-Competition
by rok_korber
Supra-e Pro Competition Ultralite
Out of stock