Shinto 3m
Product Code: SHINTO
Shinto 3m
The
Shinto
is a great new design optimised for F3F, F3B, and fast sport flying, either from slope or flat field sites. Aeronautical design is by Max Steidle, a highly regarded aero engineer, with input from Stefan Eder and structural design and manufacture by Vladimir's Models. The aircraft is available in two versions, F3F (slope racing competition) or F3B (flat field multi-task event). Both versions are strong and reasonably light, with the F3B version the lighter.
All our Shintos are ready fitted with servo frames and IDS servo linkages
to speed assembly,
and come with excellent quality wing and V tail bags
. These are extras from other suppliers.
Quote by Simon Thornton, F3F Champion of Champions:
It is a superb model, very light but very stiff, so it will happily fly in 25 m/s slope conditions without getting squirrelly. Ideal battery pack is a 1600 mAh LiFe. I have found the supplied noseweight is a little too heavy, so it is worth advising buyers to check before gluing in! This is the model that helped me win the UK F3F League 2015 and 2015 F3F Champion of Champions contest.
The wing is a two piece hollow molded structure with a very substantial spar and joiner system. The wing skin is a Carboline spread carbon - Rohacell - Carboline sandwich, with a strong carbon spar and carbon sandwich shear web. A full wiring harness is supplied with the model, so no soldering is required to install the RC.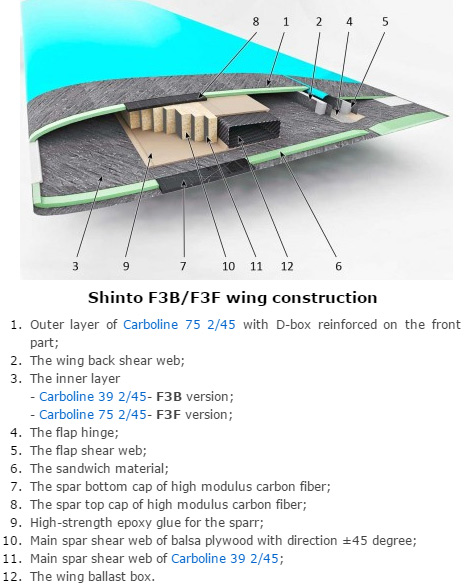 All our Shintos are supplied with IDS
(stands for Intregrated Drive System, also called LDS for Linear Drive System on Vladimir's site) frames installed in the wings with ready to connect linkages for the flap and aileron servos. These beautifully engineered Integrated Drive Systems allow the servo to be dropped into place in the pre-fitted frame. A pre-fitted pushrod of optimal length and geometry is already connected to each of the control surfaces, massively simplifying the installation. This system utilises an external bearing built into each servo's mounting frame, increasing control rigidity, reducing servo forces, and improving the structural integration of the servo in the wing. It also allows the servo to be removed easily for servicing or replacement if required. All models are fitted with IDS frames and pushrods suitable for either Futaba/Robbe S3173 or Graupner DS 3288, JR DS 171, JR DS 179 HV, JR DS 189 HV, JR DS 378, or JR DS 398 servos. The servos required are listed with the colour scheme below the price.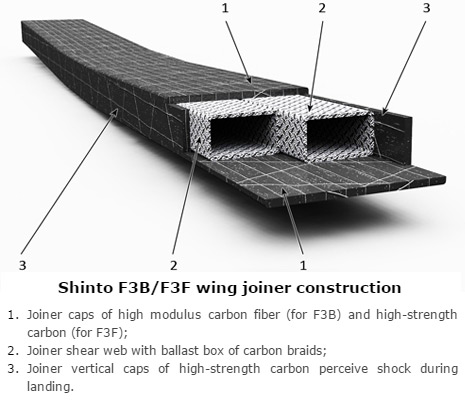 The Shinto wing joiner is made of carbon prepreg in the steel mold with high pressure and cured at a temperature of 130 deg C. The wing joiner includes ballast compartments for mounting 680 g of steel ballast slugs. These joiner-ballast slugs are included in the kit. For improved performance in windy conditions we highly recommend the optional extra
Shinto Wing Ballast Set
is also purchased.
The Shinto fuselage is laminated in an aluminium mold using a pressure balloon. The forward part is made of Kevlar and high modulus glass, and is 2.4Ghz friendly. The rear part is laminated using high modulus carbon fiber. The adjustable tow hook and the control rods are installed already. A beautiful V-tail horn carbon hatch is supplied. The translucent Shinto canopy is made of plastic with the Shinto and VM logo molded in, to look good and give reinforcement. The Shinto is supplied with a molded nose ballast, with a weight of approx. 100 g. Note this may need reducing, depending upon the battery used.
The Shinto V-tail is a spread carbon sandwich construction. The stabilizers fit perfectly to the fuselage and the elevator horns are installed and hidden by the tailcone fairing. The stabilizers and wings must be secured to the fuselage with tape after assembly.
Nice build photos
here
.
Shinto F3F Specifications
Wing span
3.0 m
118 in
Wing area
55.6 dm2
862 sq in
Length
147 cm
57.9 in
Flying weight from
2050 g
72.3 oz
Wing loading
36.9 g/dm2
12.1 oz/sq ft
Aspect ratio
16.1
Wing airfoil
M164792S-Straak
Dihedral (EDA)
2.5º
Centre of Gravity
91-93 mm from wing leading edge
Controls
Rudder, elevator, ailerons, flaps
Shinto F3F* Typical Weights
Fuselage inc nose weight
365 g
12.9 oz
Wing
1250 g
44.1 oz
V Tail
65 g
2.3 oz
Wing joiner
117 g
4.1 oz
Accessories & wiring
30 g
1.1 oz
Total structure
1827 g
64.4 oz
Receiver
10 g
0.4 oz
Tail servos
41 g
1.4 oz
Wing servos
82 g
2.9 oz
Battery
90 g
3.2 oz
Flying weight
2050 g
72.3 oz
*The F3B version is approx 50g - 80g lighter.
Recommended RC
Elevator & rudder
JR DS285MG, Graupner DES 261BB, MKS DS6100, MKS HV6100
Flap
Graupner DS 3288, JR DS 171, JR DS 179 HV, JR DS 189 HV, JR DS 378, JR DS 398
Aileron
Graupner DS 3288, JR DS 171, JR DS 179 HV, JR DS 189 HV, JR DS 378, JR DS 398
Receiver
6 channel rx to match your transmitter
Power
1600 mAh LiFe, 2S2P 1000mAh LiPo
Recommended Control Throws & Mixes
See the Shinto-F3b-recommendations-from-Stefan-Eder.pdf file (link below).