RAM3 Recording Altimeter for Models
Product Code: RAM3
RAM3 Recording Altimeter for Models
Now supplied with a USB interface
The high accuracy RAM3 Recording Altimeter for Models flight logger holds up to 65000 altitude readings in its ample RAM capacity, yet is smaller and lighter than competing devices.


The Recording Altimeter for Models (RAM3) records altitude and displays it on your PC.


The RAM3 has a resolution better than 1ft, aided by reading every sample thousands of times.


The RAM3 holds up to 18 hours of data when sampling at 1 sample per second.


It has a tiny postage stamp size, just 20mm x 14.5mm x 7.5mm (0.79" x 0.57" x 0.30")


It can be set to sample at 1, 2, 5, or 10 samples per second, making it suitable for duration, high performance, and DLG models.


Use the free FlightView PC software to optimise launch altitude, climb speed, and sink rate. Note no CD included - download the software from here.


The RAM3 is suitable for R/C or F/F models, as it doesn't need to be connected to a receiver.


Operates on a 3.1V to 15V supply, so can be used with a single LiPo cell.


Only draws 5mA, so a 50mAh LiPo will be enough for approx 10 hours logging.


RAM3 bare weight 2.2g, or 3.3g inc the cable.


Connects to your PC using the supplied USB interface and cable.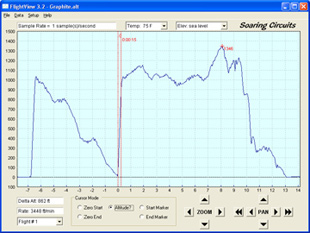 USB Interface Installation Instructions
There are two steps to install the USB upload cable. First, the proper software drivers must be available so that your computer can recognize and install the cable when it's plugged in. Second, you must determine what COM port Windows has assigned to the cable and set FlightView to match using the Setup menu.
If you're running Windows 7 and connected to the internet, there's a good chance that the USB driver will install automatically when the RAM3 USB Interface is plugged into the PC. If not please go to
www.ftdichip.com/Drivers/VCP.htm
and download and install the driver appropriate for your operating system.
Once the driver is installed and the RAM3 USB interface has been recognised open the Windows Device Manager and look for the Ports (COM & LPT) entry. Expand this entry and you should see a USB Serial Port line followed by the COM port assignment. If the COM port number is greater than 9 click on the Advanced button on the Port Settings tab and change it to 9. Make note of the number and then run FlightView and use Setup => Com Port to set the COM port to match.
If you need more help, please go to
soaringcircuits.com
Read the
RAM3 Frequently Asked Questions
RAM3 Recording Altimeter for Models