JJ Edge ARTF DLG (wing servos fitted)
Product Code: JJ-EDGE
JJ Edge ARTF DLG (wing servos fitted)
The
JJ Edge
is a superb all molded implementation of Gerald Taylor's ground breaking
Edge
design. Widely acknowledged as the next stage on from the Super Gee II, this model incorporates Mr Taylor's state of the art custom airfoils to allow the model to launch very high and to range far. The higher than usual flying speed allows the model to cope with wind well, and the superb finish and detail design get the best from the advanced aerodynamics.
The JJ Edge's wing is supplied with two Hyperion DS09-SCD servos already installed, with superbly engineered low drag linkages to the flaperon. The flaperon horns hardly extend above the wing surface, so no fairing is required, making an ultra clean installation. The flaperon have wipers installed, so the drag stays low for all camber positions.
The light tailplane is also beautifully molded, and has the elevator ready hinged, a torque spring installed, and a horn fitted.
The fuselage is a one piece molding, 2.4GHz friendly Kevlar at the front, changing to carbon from the wing backwards. The boom is molded to an oval shape, for increased stiffness, and thus facilitate higher launches. The rear of the boom incorporates a pylon for the tailplane, which also acts as a fairing for the elevator horn, so the horn and pullstring are out of the airflow, creating a drag-free control linkage. A Kevlar pull string for the elevator is included, so the only work required for the RC installation is fitting the elevator servo.
The fuselage also incorporates a ballast tube, and the molded 40g and 80g ballast slugs allow the model to be flown in a very wide range of wind speeds. The canopy hatch has a fixing mechanism installed.
The kit includes two weights of ballast, installed control linkages, the throwing peg, wing covers, and a complete wiring harness. No soldering or extension leads are required to connect the radio.
The excellent detail design and superb finish really sets this model apart from most discus launched gliders, and contribute to its top level performance. The good fit, finish, and completeness reduce the build time very considerably. Only a few hours are required to glue the fin and launch peg in place, and install elevator servo. The model comes with a rudderless fin, but a Kevlar living hinge has been molded in, so if a rudder is preferred it can easily be cut free.
The model is available in full spread tow carbon for £80 above the base version which has a carbon DBox only. Also a DBox and disser (criss cross carbon) version is available for £30 extra. See the Options combo box below the price to choose the layup and colour.
JJ Edge Specifications
Wing span
1.5 m
59 in
Wing area
22.0 dm2
341 sq in
Length
109 cm
42.7 in
Flying weight from
271 g
9.6 oz
Wing loading
12.3 g/dm
4.0 oz/sq ft
Aspect ratio
10.2
Wing airfoil
GT Edge series
Dihedral
5.5º
Centre of Gravity
78-82 mm from wing leading edge
Controls
Elevator, flaperons
JJ Edge Typical Weights
Fuselage
45 g
1.6 oz
Wings ex servos (DBox)
136 g
4.8 oz
Fin
7.2 g
0.3 oz
Tailplane
8.1 g
0.3 oz
Wiring harness
5.7 g
0.2 oz
Total structure
202 g
7.1 oz
Glue etc
2 g
0.1 oz
Receiver
6 g
0.2 oz
Tail servos
8 g
0.3 oz
Wing servos
18 g
0.6 oz
Battery
25 g
0.9 oz
Noseweight
10 g
0.4 oz
Flying weight
271 g
9.6 oz
Control Throws
Aileron
8 mm down, 10 mm up
Elevator
8 mm down, 10 mm up
Rudder
13mm each way
Flap-launch
1.5 mm up
Flap-speed
1 mm up
Flap-normal
0 mm
Flap-thermal
2 mm down
Flap-brakes
35 mm down
November 2012 Colour schemes - wing top surface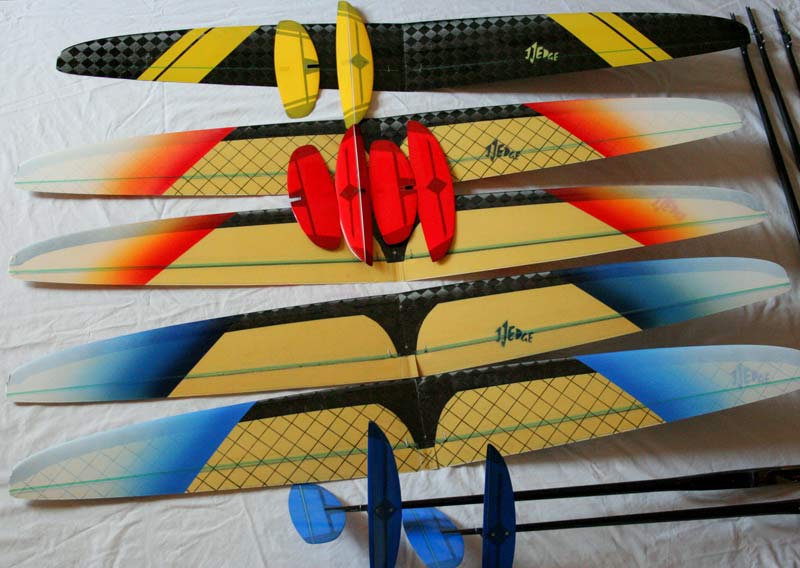 Wing bottom surface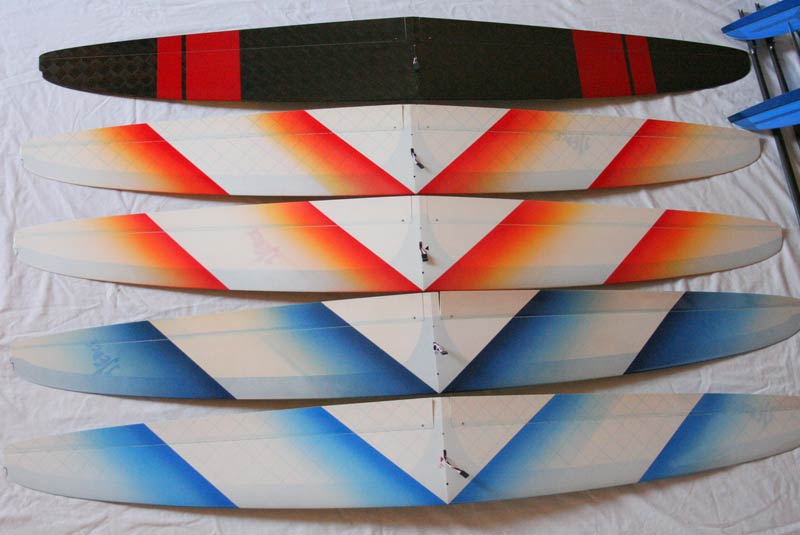 JJ Edge ARTF DLG (wing servos fitted)
3 in stock