Blaster 3 DLG
Product Code: BLASTER-3
Blaster 3 DLG
The
Blaster 3
is the long-awaited successor to the award winning Blaster line of 1.5m DLGs from Vladimir's Models. The Blaster 3 is a great improvement in DLG design, building upon the experience gained in development and manufacturing of the first two Blaster versions. It meets all the requirements for a competition level discus launch glider, while being suitable for intermediate and even less experienced pilots.
This "Light" version has a glass and Rohacell wing skin, with a substantial carbon spar. It is fine for most fliers, but we recommend modellers who launch hard to get the stronger spread tow layup.
Blaster 3 is designed in CAD from the ground up. It combines unique design, the latest composite materials, the state of the art manufacturing process and careful manual composite layup. Blaster 3's visible simplicity hides its structural sophistication.
Thanks to the advanced aerodynamic design by Dr. Drela and extremely streamlined fuselage, we have developed a uniquely controllable, fast, light, and strong glider with excellent penetration ability.
The Blaster 3 has these major improvements over the Blaster 2:
Lighter, from 260 g flying weight, approx 40 g lighter than the Blaster 2.
Easier and quicker to build.
Smaller fuselage with smaller pylon reduces drag.
Shorter tailboom and smaller tailplane reduces inertia and improves manoeverability.
Stiffer wing mount and tail boom increases the launch height.
The above result in a model that launches higher, has improved hang time, and thermals better.
The Blaster 3, unlike previous versions, can have the launch blade attached to either wing, allowing the model to be build for left handed and right handed throwers.
The wing design uses state of the art hollow molded fabrication techniques to maximise strength, while keeping weight to a minimum.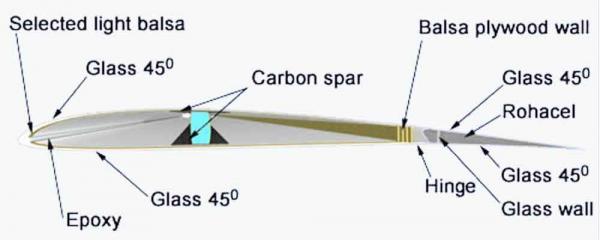 The spar is constructed from high modulus unidirectional carbon flanges, which are bonded to the wing skin, these are kept rigid by the web, which is made from high density blue foam strengthened with a braided carbon fibre sleeve. This ensures +/- 45 degree fibre orientation, ideal for a shear web.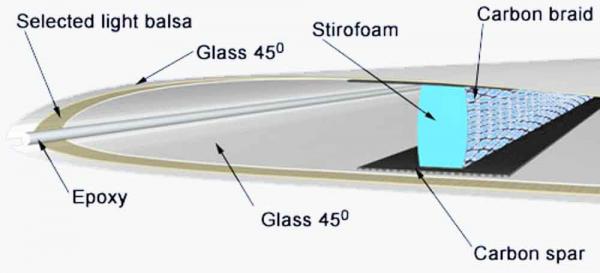 The wing skins are made of Rohacell foam and glass cloth. The ailerons are very light and stiff due to a braided CF sleeve spar.This also moves the aileron CG forward, preventing flutter during launch.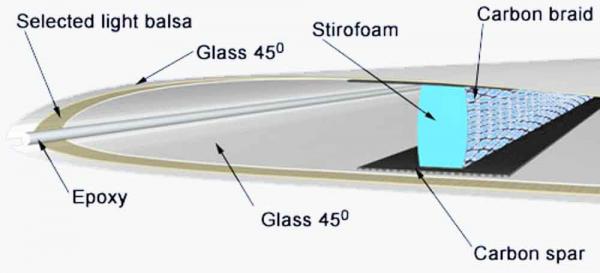 For build and flying info see this excellent
RCGroups Blaster 3 build log
.
Blaster 3 Specifications
Wing span
1.5 m
59 in
Wing area
22.9 dm2
355 sq in
Length
114 cm
44.9 in
Flying weight from
265 g
9.3 oz
Wing loading
11.6 g/dm
3.8 oz/sq ft
Aspect ratio
9.7
Wing airfoil
AG45, AG46, AG47
Dihedral (EDA)
6.5º
Centre of Gravity
75-85 mm from wing leading edge
Controls
Rudder, elevator, ailerons, flaps
Internal ballast
40 g - 80 g
Blaster 3 Typical Weights
Fuselage
51 g
1.8 oz
Wing (glass)
128 g
4.5 oz
Tailplane
8 g
0.3 oz
Accessories
10 g
0.4 oz
Total structure
204 g
7.2 oz
Glue etc
5 g
0.2 oz
Receiver
8 g
0.3 oz
Tail servos
10 g
0.4 oz
Wing servos
10 g
0.4 oz
Battery
28 g
1.0 oz
Flying weight
265 g
9.3 oz
Recommended Control Throws & Mixes
Rudder
14 mm each way
Tailplane
10 mm up / 10 mm down
Flaperons
15 mm up / 8 mm down
Recommended flaperon settings>
Launch mode
-2° (flat bottom surface)
Cruise mode
0° (flat top surface)
Thermal mode
+2° (2 mm down)
Landing mode
+40° (38 mm down)
Recommended RC
All servos
MKS DS65K, MKS DS6100, JR DS285, Futaba DS3154, Ripmax SD100, Dymond D47, Power HD DSM44, Hyperion DS09-SCD*
Receiver
4/5 channel rx to match your transmitter, max size approx 60 mm x 25 mm x 12 mm
Power
SmartLipo 450, SmartLipo 450, Rhino 2S 360 mah LiPo, HyperLiPo 2S 300 mAh LiPo
*The Hyperion DS09-SCD are excellent, but are a tight fit in the fuselage,
so the installation needs planning carefully.
Recommended Control Throws & Mixes
See the Setup Template for Blaster-Sprite-Supra-Vladimir.pdf file (link below).
Blaster 3 DLG
10+ in stock