Blaster 2 DLG F3K
Product Code: BLASTER-2
Blaster 2 DLG F3K
The
Blaster 2/2
is a high tech F3K R/C hand launched glider utilising airfoils designed specially for DLGs by Mark Drela. To help with storage and transportation this updated Blaster 2/2 has a wing that splits into two parts – this is cleverly implemented and only adds 6g to the model's weight. The break is asymmetrical, and the wing that is used for launching is fully bolted to the fuselage, so the wing join only has to take the forces on the outside wing. This facility also makes the Blaster 2 into a brilliant holiday glider, that can be flown from the beach, small dunes, or any small field.
The hollow-molded wing is made in CNC machined molds to ensure the airfoils are reproduced accurately, and the potential performance is fully achieved. The elliptical planform and transitioning airfoils give the wing a very high efficiency, together with excellent handling characteristic and a benign stall.
The superbly finished wing comes complete with a moulded-in aerodynamic winglet on the left wing only, for tip launching by right-handers. The wing also has pre-cut servo mounts and bottom hinged generously sized flaperons, to allow the model to be slowed down to a crawl for hand catching. This high level of prefabrication makes the glider especially strong, clean, and easy to build.
The wing skin is a very rigid and tough glass/rohacell/glass sandwich with a substantial carbon spar.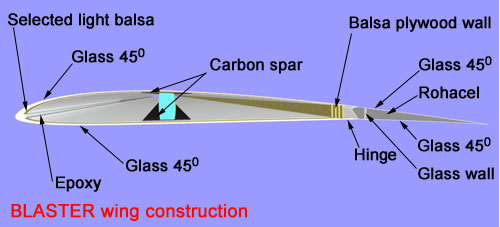 The glass skin is laid at 45 degrees to eliminate twisting and maximise launch height. The carbon braid reinforced shear web is bonded to the substantial carbon spar caps, resulting in a light but strong spar.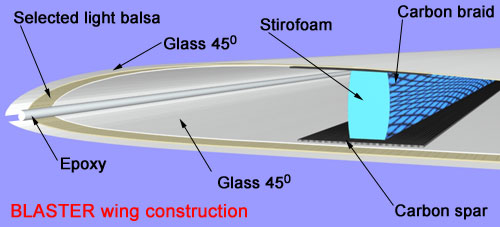 The living skin hinged flaperons have a rohacell core and a very sharp trailing edge to minimise drag.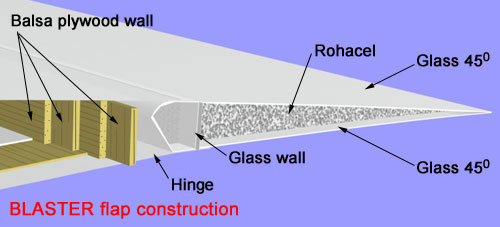 The spacious pod is Kevlar reinforced with a horizontal strip of carbon fibre extending back to the boom, and is covered by removable nose cone to keep the front end clean and maintain laminar flow. The pod includes a wing mounting pylon to reduce interference drag, and fairs smoothly into the generously sized and very stiff carbon tailboom.
A lightweight v-mount keeps the full flying tailplane out of the disturbed airflow, and gives the pilot excellent low drag pitch control.
Download our Blaster 2 Assembly Guide (link below) to see how easily and quickly the Blaster 2 goes together. Our thanks to Martin Bell for his help with the manual, and for permission to use his excellent photos.
Do look at this
New Blaster 2 RCGroups build thread
which shows how to fit all the servos in the pod, as now recommended by Vladimir's Models.
The Blaster 2 is supplied with a throwing blade molded into one wing side only. It is now usually supplied with a two piece wing, and has the blade on the left side, making it suitable for right handed throwers only.
Blaster 2 Specification
Wing span
1.49 m
58.6 in
Wing area
22.9 dm2
354 sq in
Flying weight from
290 g
10.2 oz
Wing loading
12.1 g/dm2
4.0 oz/sq ft
Wing airfoil
AG45, AG46, AG47
Tail airfoil
HT08-HT12
Dihedral
6.5º
Centre of Gravity
78-85 mm from wing leading edge
Controls
Elevator, ailerons, rudder
Blaster 2 Typical Weights
Fuselage
50 g
1.8 oz
Wing
149 g
5.3 oz
Hoz tail
10 g
0.35 oz
Vert tail
7 g
0.25 oz
Accessories
7 g
0.25 oz
Total structure
231 g
8.1 oz
Recommended R/C
Elevator & rudder servos
Ripmax SD100, Blue Bird BMS-101HV, Graupner DES 261, KST X08, MKS DS65K, MKS DS6100, Hyperion DS09-SCD
Aileron servos
Ripmax SD100, Blue Bird BMS-101HV, KST X08, MKS DS65K, MKS DS6100, Hyperion DS09-SCD
Receiver
4/5 channel rx to suit your transmitter, eg Spektrum AR6270T, AR6260, AR6100e, Futaba R6004FF, FrSky X4R, Orange DSM2 compatible, Jeti Duplex R5, Multiplex Mlink RX-6 Light & RX-5 Light
Battery
Rhino 2S 360 mAh LiPo, HyperLiPo 2S 300 mAh LiPo
Recommended Control Throws & Mixes
Rudder
25 mm each way
Tailplane
10 mm up / 10 mm down
Flaperons
15 mm up / 8 mm down
Recommended flaperon settings>
Launch mode
-2° (flat bottom surface)
Cruise mode
0° (flat top surface)
Thermal mode
+2° (2 mm down)
Landing mode
+40° (38 mm down)
Check out this superb Blaster2 aerobatics video by Donatas
Blaster 2 DLG F3K
2 in stock