Maxa Pro 4e Megalight
Product Code: MAXA-PRO-4E
Maxa Pro 4e Megalight
The
Maxa Pro 4e Megalight
is Vladimir's Models latest and lightest version of the Maxa, specially optimised for F5J competitions. It features an advanced design by Joe Wurts, the legendary Word Championship winner of all glider classes, and professional aerodynamicist. Joe spent many months optimising the Maxa for the F3J thermal soaring class, but the large size, light weight, high aspect ratio, and well cambered airfoils also makes it ideal for electric thermal soaring, especially the new FAI F5J class and the popular UK eSoaring class. Previously the Maxa was a bit heavy, in copmarisson o the latest European F5J planes, but this latest
Megalight
version has about 25% lighter than the previous lightest layups, making it much easier to core low level thermals, while still retaining enough toughness to be a workable all-weather F5J model.
The large size and extreme light weight have been made possible by a new spread carbon fabric perfected by Vladimir Gavrilko and made by specially designed machines in his impressive fabrication facility. The wing is a monocoque structure with a skin of a double layer of spread carbon strengthened with a F3J strength spar made with a multi-ply 45º balsa and carbon shear web between substantial IMS 65 carbon spar caps. We are mostly stocking the new
Megalight
version, but
Light
(normal spread carbon layup) and the stronger
Windy
(double spread carbon) versions are available to order.
Most of the models we order have IDS sets already fitted to the wings, so aileron and flap servos can just be slotted into place in the Servorahmen
bearing fames
. We generally order the frames for
MKS DS6100
/
HV6100
or
Robbe/Futaba S3173 SVI
servos, though other servo options may be ordered. These IDS sets include ready fitted optimised linkages, see
Vladimir's site
and the photo below, showing how the wing is delivered. The suppy and installation of these servo frames and linkages is shown by the IDS info below the colour option, below the price.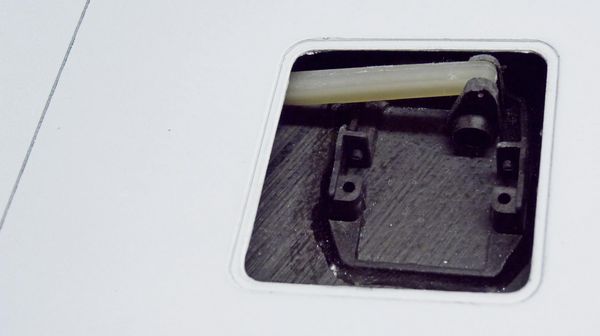 The latest Maxa Pro 4 models feature a tailplane mounted on a short pylon to reduce drag on a long tailboom. The tailplane (horizontal stabiliser) has a separate elevator to further increase stability and controllability. The tailplane, fin, and rudder are now molded from lightest weight spread carbon to improve strength and minimise weight - previously the rudder and tailplane were film covered built-up structures.
Cut away drawing of the Maxa "Light" wing construction.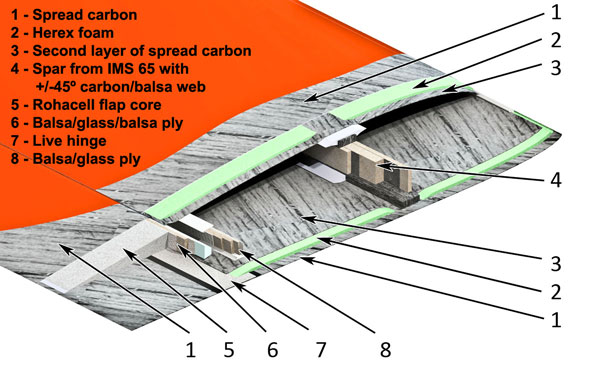 Cut away drawing of the Maxa spar, showing the IMS 65 carbon spar caps, and the +/- 45º balsa/carbon/balsa ply spar web.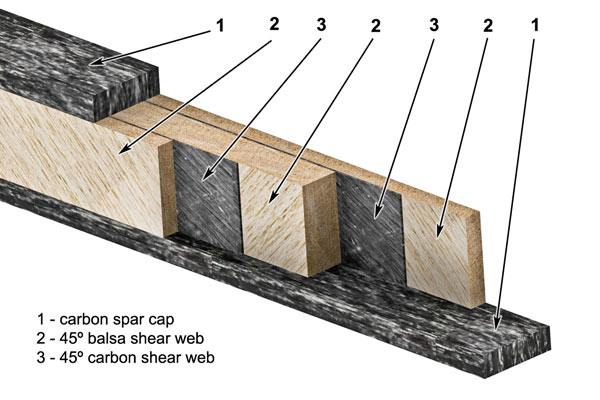 The fuselage is a well engineered Kevlar and carbon pod, with a diagonally wound spread carbon boom, and fin mounted cruciform tail. The model is totally complete, and almost no assembly is required. The tail pushrods are ready installed, and all the hardware is supplied for the wing servo installation. The model comes with a ballast tube (for windy conditions) and a wiring harness.
The
Maxa Pro 4e Megalight
is optimised for F5J rules, whose main requirement is reliable soaring from low altitude, as higher
Start Heights
count against the final score. The 30 second climb window is generous, so high-power heavy motors or batteries are not required, and the model can be kept very light.
The Maxa Pro's aerodynamic qualities have been modelled to a new level of accuracy and by Joe Wurts. In the process Joe designed a new family of airfoils and optimised the shape of the model to get the best from the new spread carbon composites being developed by Vladimir. The result is a very low sink rate that ensures the longest duration in no-thermal conditions, while also maintaining gentle handling that inspires confidence from the first flight.
The Maxa Pro's low wing loading and inertia makes it very respond to tiny air disturbances, allowing small bubbles to be detected and worked from low down, allowing low Start heights and high F5J scores.
The Maxa Pro 4e's large span allows it to be seen further away than smaller models, allowing a larger volume of air to be searched, and thermals worked for longer. This is especially important for the 15 minute fly-off task.
The excellent lift/drag ratio, especially at higher speeds, gives good penetration, and thus the ability for the glider to return from distant thermals with little altitude loss.
The long nose moment allows very lightweight powertrains to be used to balance the model.
As the electric version can use the standard ballast system used in the glider version, the model's weight can be tuned to the conditions, allowing the Maxa to shine in even the strongest wind.
This combination of state of the art aerodynamics, low weight, and a good size makes the Maxa 4e the best model for competitive F5J soaring, bar none. See
this
and
this
RCGroups thread and the Vladimir's Models
Maxa Pro 4 EL
page for a lot more info. Note some of the photos and videos show the older Maxa 4e (non Pro) version. This has a fin mounted tailplane.
Maxa Pro 4 Megalight Specifications
Wing span
3.9 m
155 in
Wing area
82.2 dm2
1273 sq in
Length
181 cm
71.3 in
Flying weight from
1270 g
44.8 oz
Wing loading
15.5 g/dm
5.1 oz/sq ft
Aspect ratio
18.8
Wing airfoil
rt01/td19sag/j00/j01/j02/j03
Dihedral (EDA)
7.7º
Spinner Diameter
32 mm
Centre of Gravity
105-114 mm from wing leading edge
Controls
Rudder, elevator, ailerons, flaps, throttle
Maxa Pro 4 Megalight Typical Weights
Pod
116 g
4.1 oz
Boom
61 g
2.2 oz
Wing c/s
344 g
12.1 oz
Wing tips
314 g
11.1 oz
Tailplane
30 g
1.1 oz
Accessories
70 g
2.5 oz
Total structure
965 g
34.0 oz
Wiring
24 g
0.8 oz
Receiver
10 g
0.4 oz
Tail servos
21 g
0.7 oz
Wing servos
42 g
1.5 oz
Speed control
38 g
1.3 oz
Motor
70 g
2.5 oz
Prop & spinner
30 g
1.1 oz
Battery
70 g
2.5 oz
Flying weight
1270 g
44.8 oz
Maxa Pro Megalight 4 Powertrain Recommendations
Powerline Micro 1015
3S 700mAh LiPo, 15x8 prop (8 m/s, 1500 fpm, 37A)
Powerline Micro 1025/F5J
3S 1Ah LiPo, 16x8 prop (10 m/s, 2000 fpm, 43A)
Leomotion L3007-5000R
3S 1Ah LiPo, 13x7 prop (9 m/s, 1700 fpm, 39A)
Leomotion L3007-5000
3S 1Ah LiPo, 16x8 prop (9 m/s, 1800 fpm, 39A)
Leomotion L3013-4550
3S 1Ah LiPo, 15x9 prop (11 m/s, 2200 fpm, 57A)
Hacker A20-6XL geared 4.4:1
3S 1Ah LiPo, 16x9 Aeronaut prop (10 m/s, 1900 fpm, 46A)
Mega 16/25/4E direct drive
3S 1Ah LiPo, 12x6 prop ( 9 m/s, 1800 fpm, 59A)
First flight of a UK Maxa - was climbing while looping.
Maxa Pro 4e Megalight
Out of stock
Available to pre-order